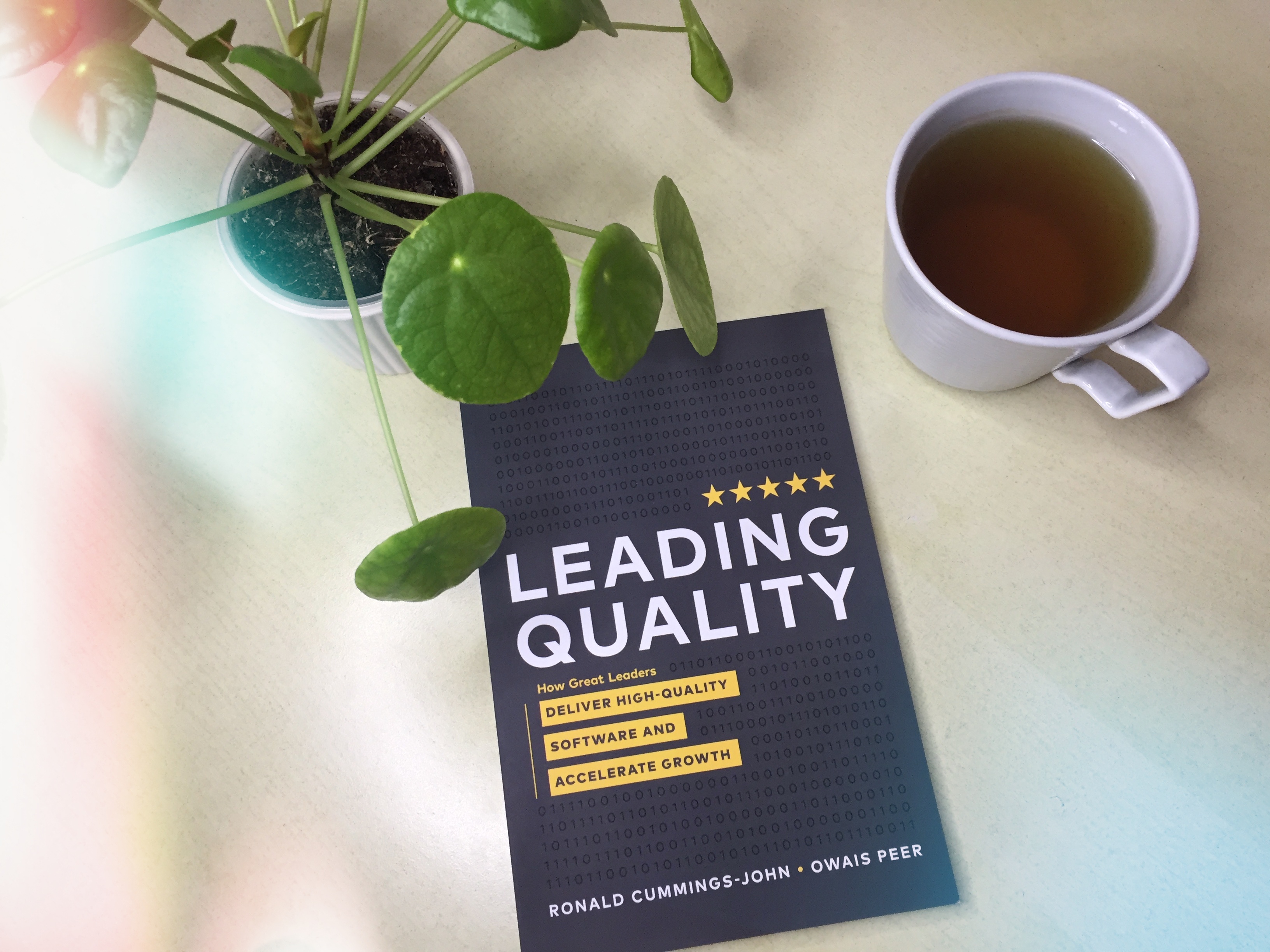 It never ceases to amaze me how mentoring is a growth experience for both mentor and mentee, and how those roles switch during the relationship. In one of my conversations with Lena, I shared my career changes towards quality leadership and its challenges. She listened with a huge interest and mentioned that she's been reading a book that may be helpful to the situation I am in. The book she recommended was "Leading Quality" by Ronald Cummings-John and Owais Peer (as an Amazon Associate I earn from qualifying purchases). I had it on my to-read list since I stumbled upon the title somewhere, but the extra mention was a timely encouragement to actually purchase and read it. Lena was right: "Leading Quality" was extremely relevant to me. This post combines a few of my favorite learnings from the book.
Testing != Quality
I studied mathematics at university, and during one of the career fairs, there was a company hosting a problem-solving competition which also acted as a challenge for one of their job openings. I love riddles, so logical puzzles full of "out-of-the-box" creative thinking were a blast to me. Later on, I found that the challenge was for a tester position because you're supposed to think of unusual scenarios. That's how I got into testing. Years forward, I have progressed from manual testing to learning about automation, monitoring, requirement analysis, and much more (I talk about many of the concepts in my Quality Foundations series). For me, quality is not just testing.
My common frustration is that despite encouraging testers to think "out-of-the-box", a lot of companies and even testers themselves do not want to broaden their understanding of quality.
At the start of "Leading Quality", the authors tell a story of a bomb factory during the war where bombs would blast off due to lack of quality practices. With time, the factory did introduce some measures and avoided the incidents, however, this is where quality was more of an internal inspection rather than thinking of value. Historically, this is how a lot of companies grew to see quality as well: as an inspection or gate-keeping. I'm glad this book shared the understanding of quality I have which is against this view, gave a brief overview of why it was historically the other way, and how we could put more value into our work.
If we want to lead quality, we have to start with setting the vision of quality. We need to know where we're heading first. However, the journey towards quality culture can be drastically different in different contexts. I was pleased to read that it was not just the testing aspect that we should consider when we start a change. Authors advised to consider the product maturity model, current processes, the growth metric, local personas, team's skills and capacities, and the quality narrative.
Discover the quality narrative of your company
I always say that my first question when I join a company is: "What is quality to you?" (and I do expand on this more in my article on what is quality). In addition, "Leading Quality" equipped me with a concept of quality narrative: how does your company perceive quality?
There are three possible quality narratives:
Ownership narrative: Who do people think own quality?
'How to test' narrative: What are people's thoughts on current testing methods/tools/processes?
Value narrative: What value do people think the quality team provides to the business?
You can find it out by asking this question to various people: What are the top three comments you hear about quality around the business?
The answers to this question can help you unravel not only the understanding of quality but misalignment of views as well. Knowing your current quality narrative influences your next steps in order to reach a quality culture.
Metrics are important for value conversations
If you know me, you know how much I love data and metrics. I am fairly opinionated on that and aim for teams to have metrics that empower them, not discourage them, or can be rigged. We need to be careful not to use "vanity" metrics like the revenue, we often need extra dimensions as well. "Leading Quality" advises to learn the company's growth metric. What is the driving metric for the company you work in? Maybe the company does not even have it, so this is a chance to step back and get that defined.
Once you know what your company is striving for, make sure the team understands and connects their work to the metric. We tend to concentrate on our daily tasks and lose track of the company's goals. If we shape our work around the success of the company, it provides us a common language and can show the value of our work. I loved this quote in the book which depicts why some metrics are not great:
"When you focus on measuring outputs and activities - as so many organisations measure testing progress - teams can get lost in busywork."
The authors of "Leading Quality" include a lot of useful examples of how various companies use metrics. When many companies talk about alerting, they often do not align it with metrics and use it more for the sake of system monitoring. In the book, I enjoyed learning about Rob Ewaschuk's "My Philosophy on Alerting". Rob states that users, in the end, care about four things:
Basic availability and correctness: no "page not found" errors, missing images, or anything that shows unavailability
Latency: everything loads quickly
Completeness, freshness, and durability: the stored data is safe and accessible when they want to retrieve it
Features: the wanted features are working correctly
I always see the power in having dashboards that are used company-wide and concentrate on those areas. When it comes to quality, we need to talk more about the value we bring and not the number of issues we find. Different issues have different impacts.
Empathy engineering
Another concept mentioned in the book I loved was empathy engineering. We all come with our luggage: be it background, upbringing, habits, culture, etc. If your product is used not only in your country, then you may not know the local personas in other countries. Some companies embrace empathy engineering where they allow engineers to work from different regions and get to know how things work there. For example, in South Korea for a long time because of outdated financing systems people could use just Internet Explorer for purchases. If you have never experienced that, you may not understand the importance of supporting that browser.
Another example the authors gave was about a company that wanted to grow in the Indonesian market and were trying to improve the number of user registrations. It took just a few moments for a local tester to tell them what the problem was: the system was requiring the last name. Many people in Indonesia have only the first name (Wikipedia article on Indonesian names). It was a fairly easy fix to the problem that creators of the application did not even think of possible.
Understanding your product's users is vital for the success and quality of the product. When you lead quality make sure to lead with empathy as well.
Conclusion
"Leading Quality" is a condensed book on quality leadership with real-life examples from various companies. It is a great starting point for new leaders and equips you with questions to ask and topics to concentrate on when building a quality culture in your company.